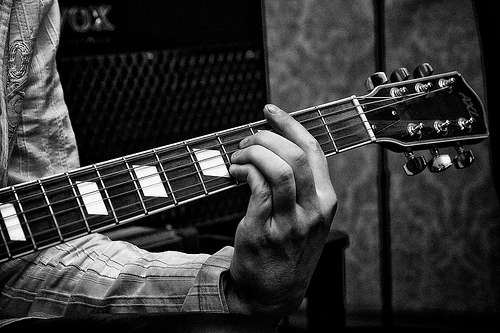 If you haven't heard of Udemy, it's an online learning platform aimed at adults who want to gain or improve their skills, or explore their passions in pretty much any discipline you can imagine. The good news is that there are a ton of quality guitar courses on Udemy that you probably haven't heard of, and the even better news is that the quality of most Udemy courses is far higher than your average YouTube trawling session. The platform itself incorporates video, audio and PDF downloads seamlessly into structured courses that you can go through at your own pace. So, if you're tired of trawling YouTube for hours on end and want to go straight to the good stuff, let's see what Udemy has to offer in the way of guitar courses.
1. Complete Guitar System – Beginner to Advanced
This course features a complete, step-by-step system which takes you from beginner right up to advanced techniques and concepts. The course was designed by Erich Andreas and contains 288 videos with PDFs, 29 hours of lessons, bonus material and a 30-day money back guarantee. I honestly don't think I've ever come across a more thorough and comprehensive guitar course than this one. The course currently has over 24,000 students enrolled and a cumulative rating of 4.4 out of 5.

Watch up to 14 FREE preview lessons
2. The Professional Guitar Masterclass
If you're looking for a course aimed at providing you with all the tools you need to either turn pro, or become the most complete player you can be, then this is the course for you. GIT graduate Michael Palmisano leaves no stone unturned in this comprehensive journey from power chords right up to some of the most advanced music theory concepts, and everything in between. In short, this is the perfect course for 'filling in the holes' that a lot of players suffer from, and just making everything click in general.

Watch up to 8 FREE preview lessons
​
​3. StichMethod Blues Master Class
You may have seen bluesman Ian Stich's videos on YouTube while searching for blues guitar lessons. He's definitely one of the best instructors out there because, quite simply, he explains things so well. This is something I also strive for in my own books and lessons. so I really appreciate it when someone takes the time to really work out how to transmit knowledge in the simplest way possible. On this course, you'll learn blues soloing and chord playing while carving out a deeper understanding of the blues than you'll get with most teachers out there. Check out Part 1 and Part 2, you won't be disappointed.

Watch up to 3 FREE preview lessons
​4. Guitar Super System
Guitar Super System by Tyler Larson of Music is Win fame is an 8-level course based on the Berklee School of Music's Guitar Faculty curriculum, broken down into very manageable chunks by Tyler himself. We did a review of the course back in 2015 which you can check out here, or check out the course on Udemy below. Level 2 builds on the foundation from Level 1, and the very polished Guitar Super System Level 3 has just been released this December (2017) to continue the Berklee syllabus at a fraction of the cost.

Watch up to 9 FREE preview lessons
5. Modern Rock Guitar Techniques
If you've ever wondered how to do all those technical tricks from sweep picking to legato to whammy tricks and everything in between, then this course, also by Tyler Larson, covers all this and more. The great thing about this course is that it contains all those alluring techniques in one seamlessly structured course, which means you'll have more time to really get this stuff down instead of piecing together bits off information from all over the internet. Check it out below to see why this course is rated 4.8 out of 5.

Watch up to 5 FREE preview lessons
There are plenty more guitar courses where these came from, as well as courses for other instruments, which you can check out here.

​If you've never taken a course on Udemy, I highly recommend the experience as the quality of the videos and materials provided is very high, and there are no annoying ads, or self-proclaimed guitar gods begging you to subscribe to their YouTube channels.