Melodic Soloing in 10 Days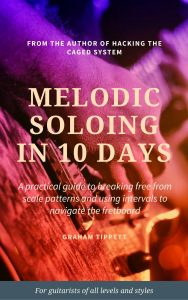 Melodic Soloing in 10 Days – By popular request this eBook continues from where the How to Create Melodic Guitar Solos article left off!
Have you ever seen those guitarists that sound like they know exactly what they're doing when they're improvising? They just seem to hit all the right notes while their playing sounds crisp and melodic, as if they'd planned it all out beforehand, or were born with a God-given sense of melody. I'd always wondered how on earth they were able to come up with such melodic and flowing lines, thinking that they must simply be gifted, or have done some serious woodshedding. Then, during one unforgettable class at music college the door was opened to a method for playing and thinking as melodically and as effortlessly as they did, and this is what I want to share with you in this eBook.