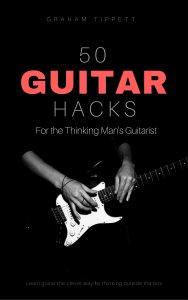 50 Guitar Hacks for the Thinking Man's Guitarist has just received an extensive update and now features more detailed explanations, plus new hacks, diagrams and insight.
Guitar Hacks can be clever ways to do things on guitar, priceless nuggets of information, or new perspectives on vital concepts for learning and understanding guitar, out-of-the-box thinking and much more besides.
These hacks are based on 20+ years of hindsight so that you can get to where you want to be with your playing quicker and more efficiently. whatever your current level, or provide an excellent reference for guitar teachers looking for lesson ideas that can be easily expanded upon.