If you want to learn guitar online there are a plethora of options these days; and with technology playing an ever-increasing role in learning, new apps, tools, and interactive courses are cropping up every day. Where most of these are aimed at guitarists wanting to teach themselves, Veevar Guitar combines an online learning community with face-to-face tuition, which is great news for both students wanting to learn, and teachers wanting a steady paycheck. We were intrigued…
Learn Guitar
The Veevar Guitar platform provides an environment in which students not only have access to the online course modules, but can also participate in different forums, get help with anything on the course syllabus, or look for a teacher for face-to-face lessons (this option is only available in the UK at the moment). The course is spread over five levels broken down into different modules which you can work through at your own pace and/or use as the basis for your face-to-face tuition. What I like about this is that the teacher and the student are on the same page; as a student, you don't have to worry about whether you're getting a quality lesson or not, and teachers don't have to worry about planning lessons for each student as all the material is right there. If you're not based in the UK, or don't want face-to-face lessons, you're still getting a comprehensive online guitar course with access to all the teachers on Veevar's roster via the forums.
Students can sign up here and get 20% off using the code VG20.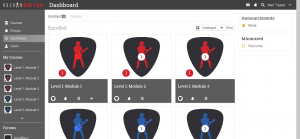 The Platform
As I mentioned, the course has five levels broken down into modules which cover everything from the basics through to intermediate and more advanced concepts. The material is easy to follow with abundant video examples which feature scrolling tab and/or music notation, as well as live fretboard diagrams. You can also speed up, slow down, mute or single out any guitar part and even flip the image if you're left-handed! The creators have gone to great lengths to cover every detail, as well as any issues you might have in every module, and should you get stuck, you can always get in touch with your face-to-face teacher or ask all the available teachers and course creators in the forums.
Teach Guitar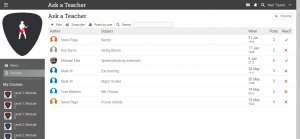 Veevar Guitar
is also a great option for guitar teachers (if you happen to live in the UK) who don't have time to do the legwork of finding students and tailoring lessons to their needs; this is all done for you leaving you free to concentrate on the teaching part, as well as all your other musical projects and commitments. All you do is sign up as a teacher and create your bio so that students in your local area can contact you and arrange lessons. You get the first 3 months on a free trial basis, then you'll be charged £60 a month to continue using the service. While £60 might seem a lot to a (UK) guitarist, as long as you're teaching more than 2 hours a month at £30 an hour, you're making money! Veevar also has the option to sell your own courses in the site's shop, which is another potential earner.

Teachers can sign up here by clicking 'are you a teacher' in the top right corner.

Our Verdict

What we liked about Veevar Guitar was the emphasis on building a community of teachers and students around learning guitar from a single resource rather than students buying product after product and being left somewhat in the dark as to how really use them to progress on the instrument. It's still early days for the site but what could set this apart from forums, YouTube instructors, and other online courses is the community-based interaction on offer.Check Veevar Guitar out for yourself
here
, whether you're a student or a teacher, and let us know what you think in the comments.